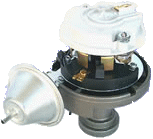 Breakerless SE Comparison Chart
T. I. Specialty will restore & convert your distributor to the Breakerless SE system with a turn-around time of approximately two (2) weeks. Cost will be quoted upon receipt of your distributor. Total cost is based on the price of the system at $169.00, the labor required to restore the distributor, plus any additional parts that may be needed. Typically, it takes 5.5 hours for restoration at a shop rate of $75.00/hour.
Note: Restoration details can be found on the "Services" page of our website.
Points Conversion
T. I. Specialty restores & converts 1962, 1963, 1964, 1965, 1966, 1967, 1968, 1969, 1969, 1970, 1971, 1972, 1973, 1974, Delco breakerpoint distributors to a reliable solid state electronic ignition without sacrificing the stock appearance. The conversion system, called "Breakerless SE Single Wire Ignition", replaces the original points with a fully integrated trigger assembly and power module that completely fits inside the distributor. T. I. Specialty installs the Breakerless SE system simply because this system is the best on the market (see comparison chart.)
In addition to the features listed in the comparison chart, there are some other points to keep in mind:
This conversion will significantly upgrade your ignition system and still maintain the original appearance - only possible by using this single wire design.

No additional boxes to hide - entire system is inside the distributor.

The system incorporates active dwell control which maintains high RPM spark energy - delivering up to 30,000 volts with the stock Delco ignition coil.