About Dave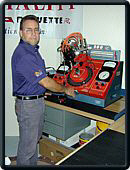 T. I. Specialty is owned and operated by DAVE FIEDLER. Dave is a graduate mechanical engineer from Purdue University. He spent most of his career (26 Years) in the automotive industry, working for Perfect Circle - a manufacturer of engine parts. During his career he was involved in the design and development of piston rings, valve stem seals, and electronic speed controls. In 1997 Dave turned a part time hobby (T.I. Repair) into a full time business and expanded to include work on all types of Corvette Tach Drive Distributors.
Professional Consulting Services

T.I. Specialty is pleased to provide information pertaining to Corvette ignition systems. This includes the information given on this website as well as over the telephone. T.I. Specialty provides this service at No Charge. However, in the event that a customer needs extensive information concerning their particular situation, then a consultation fee of $75 per hour will apply. The term "extensive" is defined as calls or emails requiring over 30 minutes of time, preparation, or research. Thank you for your understanding.

To request restoration services or for more information, call us at 1-765-962-4265 (10 AM to 6 PM EST).